Interview with Sally Ramsey
Published 2016-11-18.
Books by This Author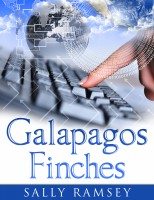 Galapagos Finches
by

Sally Ramsey
Galapagos Finches is a science fiction novella which paints a portrait of a future in which the increase in technology spawns an increase in the prevalence of a subset of the autism spectrum (Aspies), given to extraordinary skills. As those with such skills occupy increasingly higher rungs in the society of the United States, a backlash takes place.